When you see pictures of the Maldives you usually get a very vibrant idea of what people will have when they book themselves a treat in one of the
Maldivian resorts
.
But how is life behind? How are the people that are working in the resort making sure that the guest will have their best stay in Maldives living and spending their time while they are not working?
Here I will go through activities and lifestyles that are probably common in most of the private islands in Maldives, but if you have something to add please write your comment at the end of the blog.
Let's begin! In a tiny spot surrounded by water that you can walk around in under 10 minutes and when there are mostly facilities from just one hotel, things to do during your free time can be a bit limited even if the days seem to go by very fast here.
What to do in a resort in Maldives?
Working is the most important activity that will keep you busy during the days and which will also make you tired during the festive period between Christmas and Easter which is usually the busiest period in the Maldives overall.

Now it depends a bit upon the facilities of each resort but one thing that for sure you can do on a private island in Maldives is enjoying the golden beaches surrounded by crystal water in which you can sunbathe or swim with the tropical fishes.

Some resorts allow you to go to the guest beach at certain times of the day, while others will have a dedicated part of the island for the staff to go there and take a swim.

Apart from being in the water there are also a few other activities that staff can enjoy. Most of the resort will have a dedicated gym for the staff , football and volleyball fields, Chill area, and some regular events.

Also a common place that all resorts will have is a staff canteen which is separated from the guest area.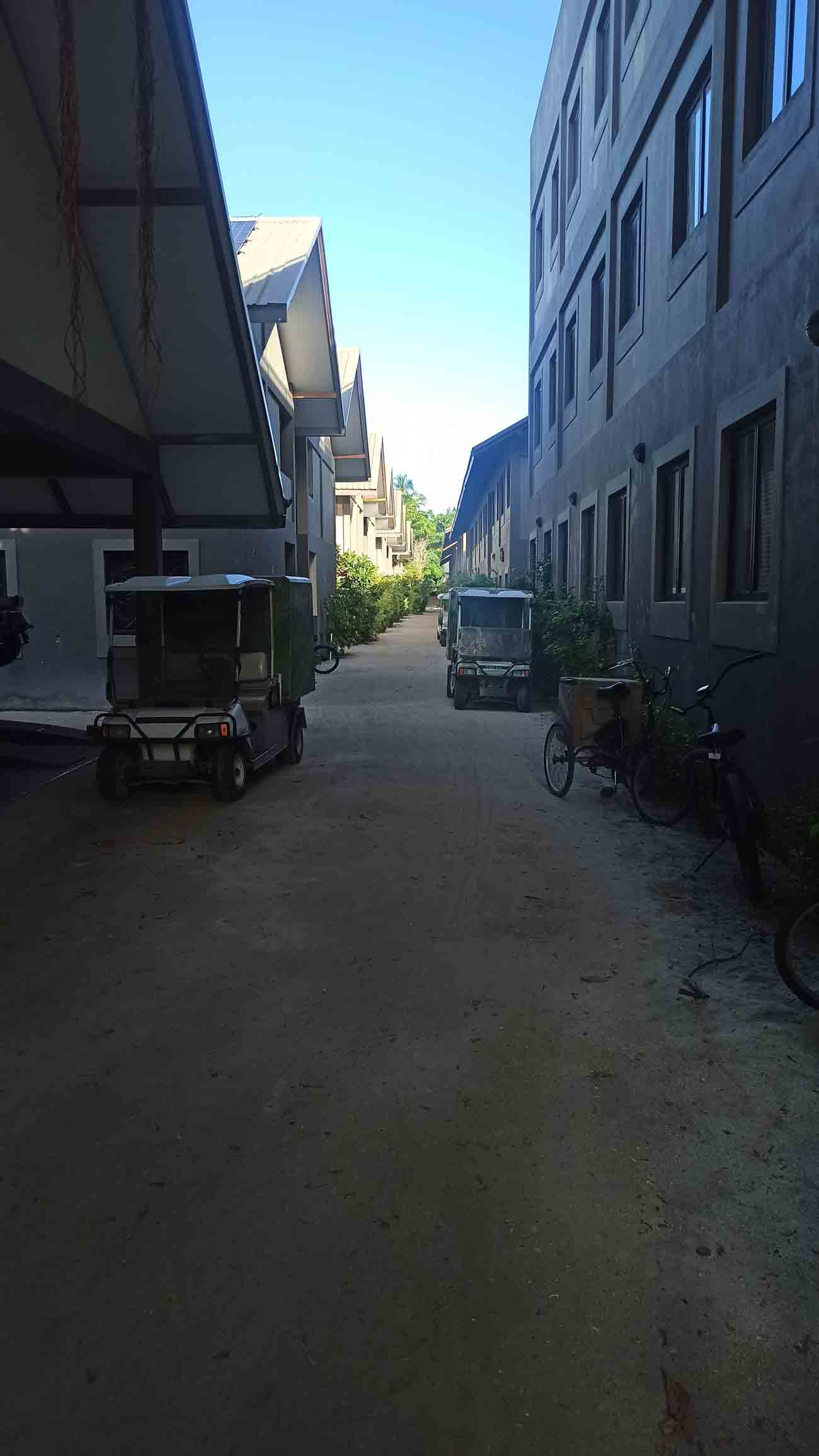 A common activity that staff enjoy and which is very popular between Maldivians is football.

Oh yes, they love football! Many resorts will have dedicated fields where staff can enjoy and play together and sometimes even guests can join depending on the resort policy.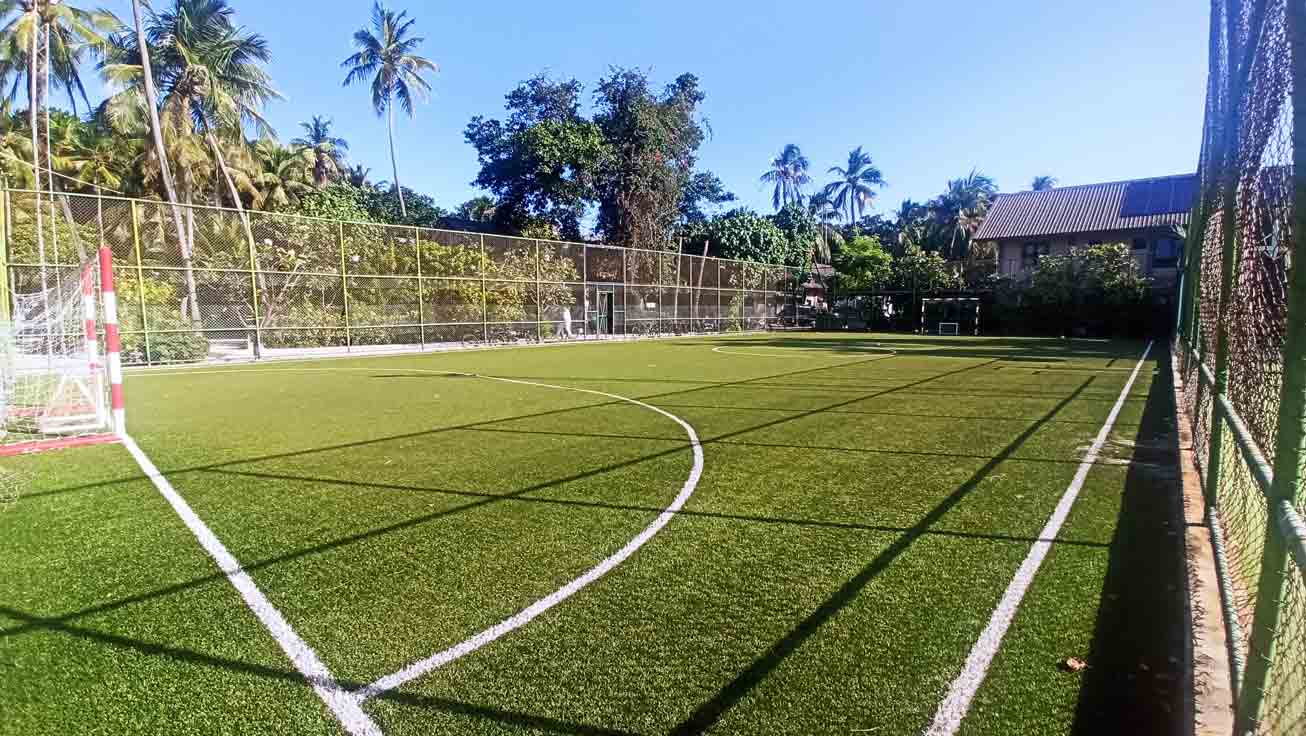 Inevitable for being close to the beach is the beach volley in which many locals and non like to play and make tournaments between different departments.
You will also find that many resorts will have badminton fields. An interesting sport to keep social and active, not really popular in Europe but very famous and practiced in Asia.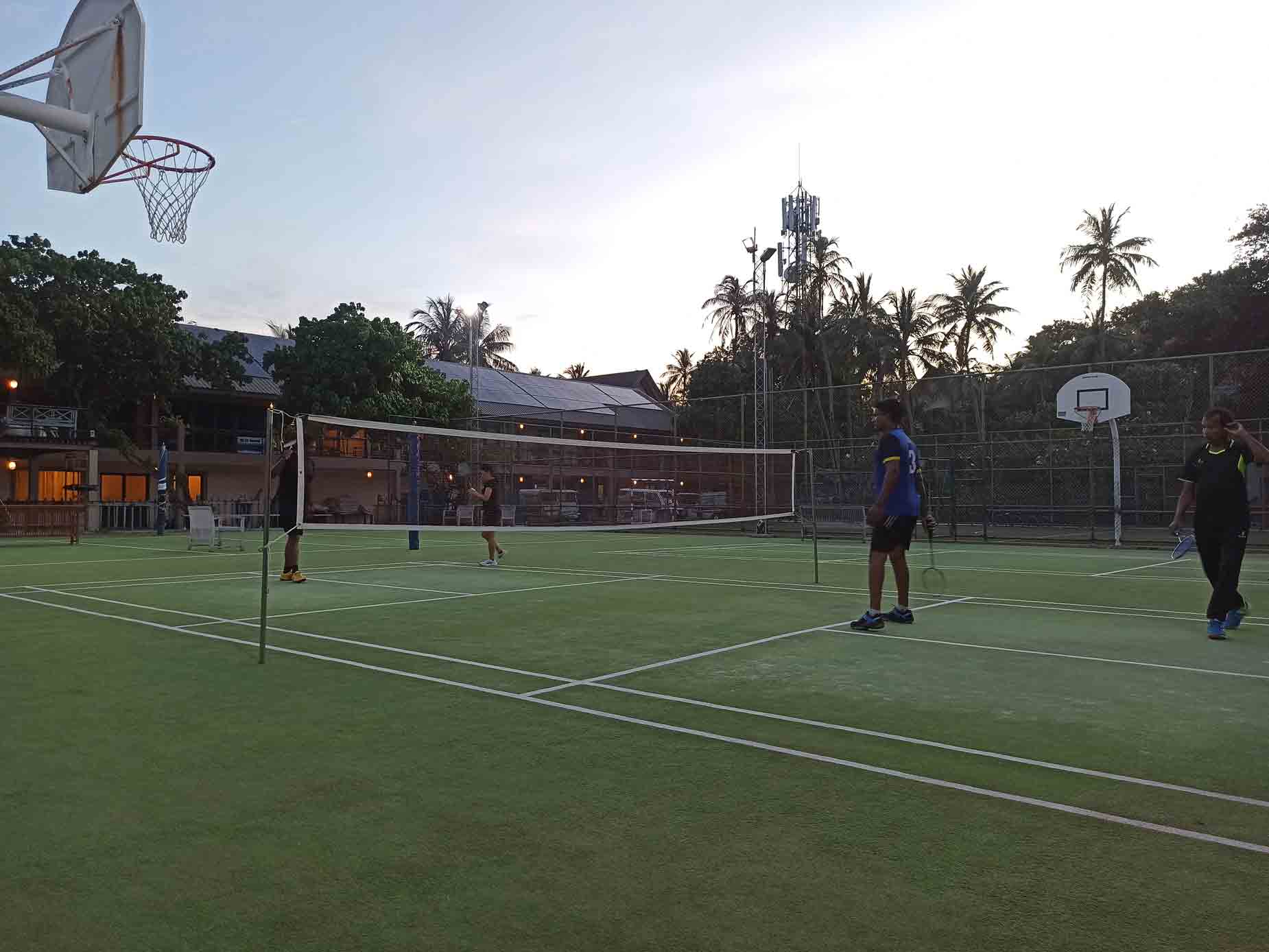 In all the resorts in Maldives you will find this common area for staff to gather together, usually in the form of a coffee shop.

Here you can spend time talking to friends, having some nice coffee or eating your favorite snacks. Many of them have billiards, table football as well some video games like ps5…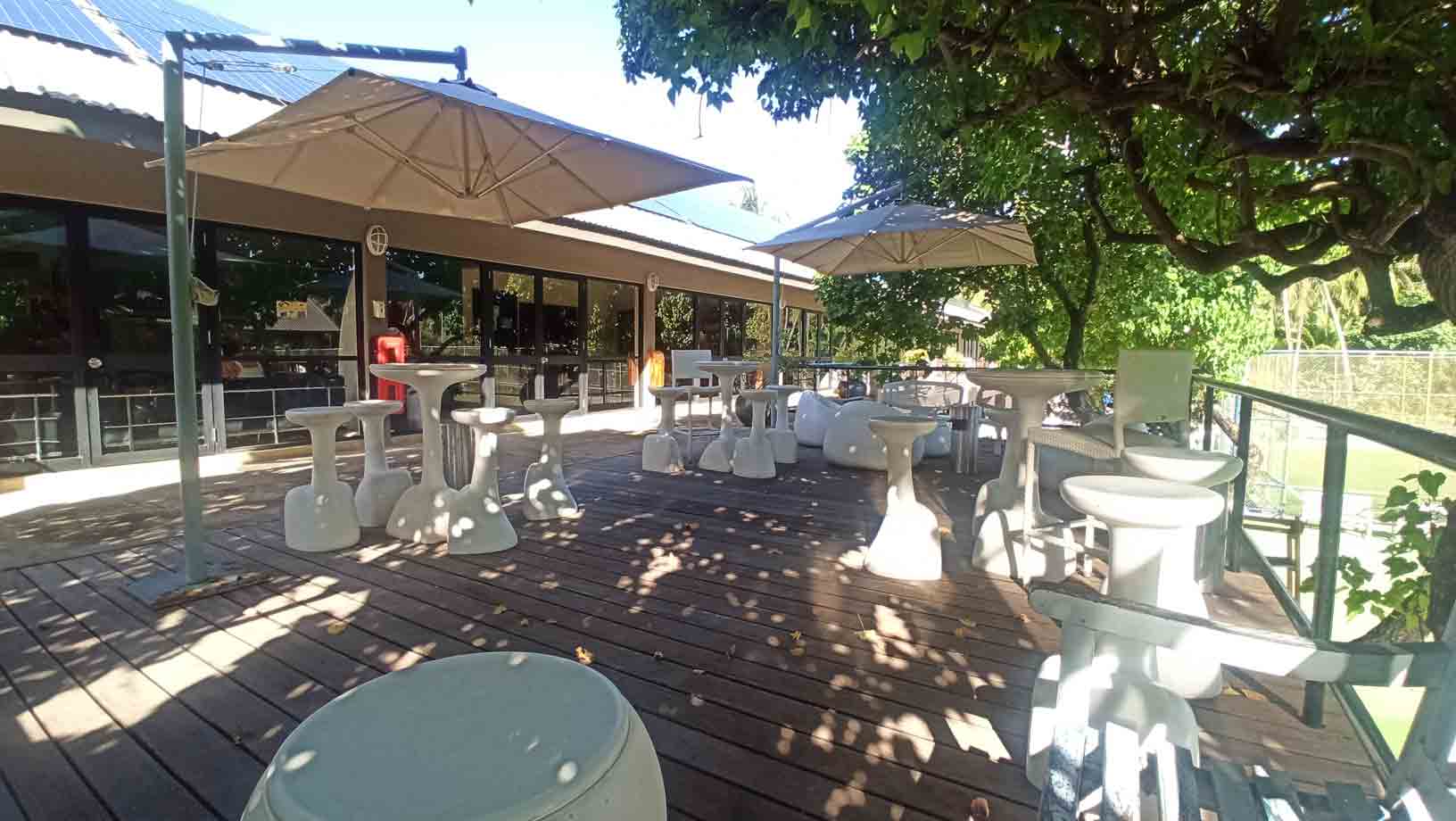 Many resorts as well will have a gym for staff. Some tend to be very well equipped while others tend to be very essential.

A perfect time to get some sweat and get some healthy movement.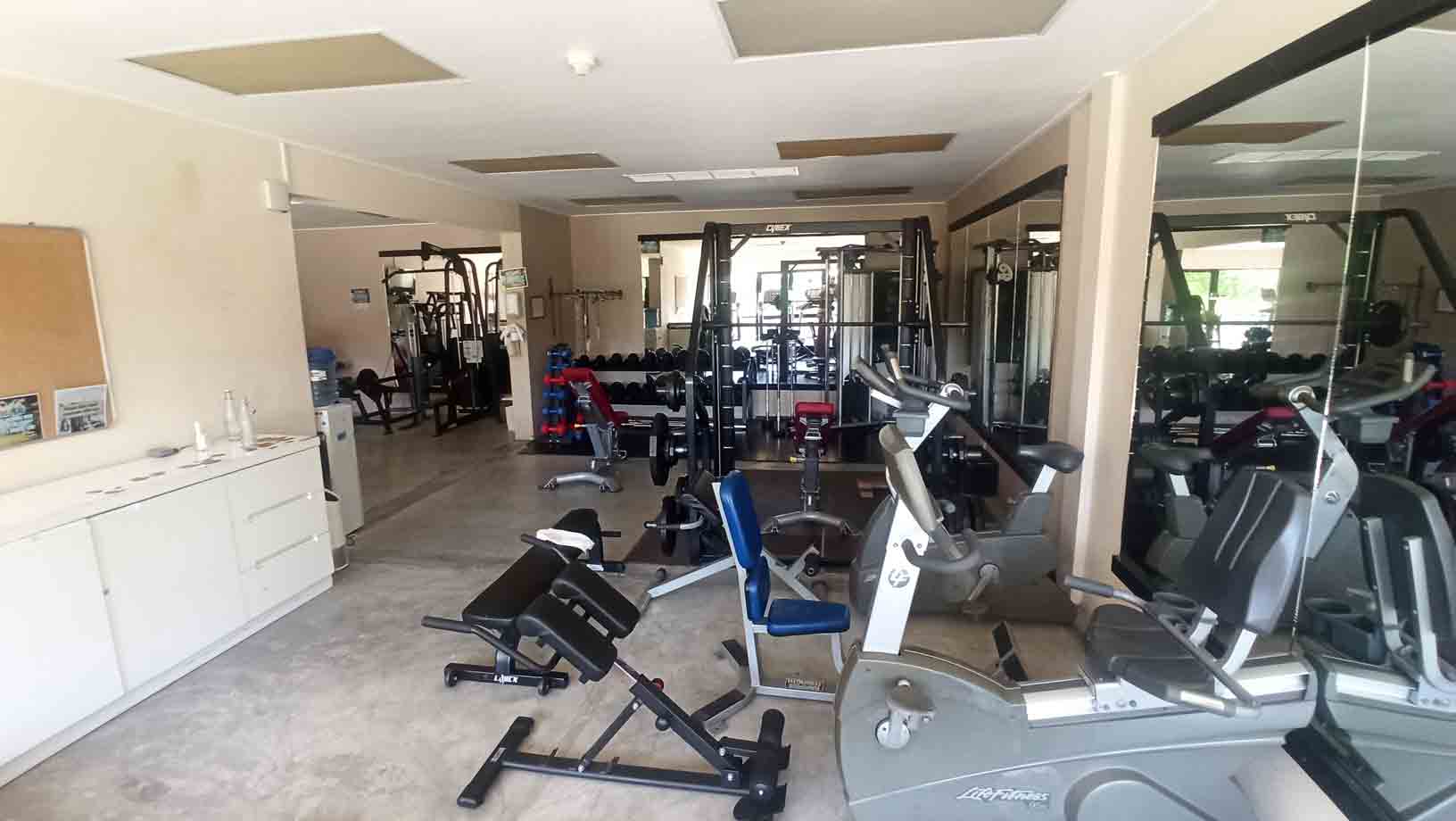 There are regular events for staff usually organized by the HR present on the island.

Some of these events include dance competitions, football tournaments and video games tournaments…

Inevitable are also the Sunset and fishing trips organized regularly for the staff in which they can enjoy a beautiful sunset in the Maldives with some snacks and good company.

Very naice!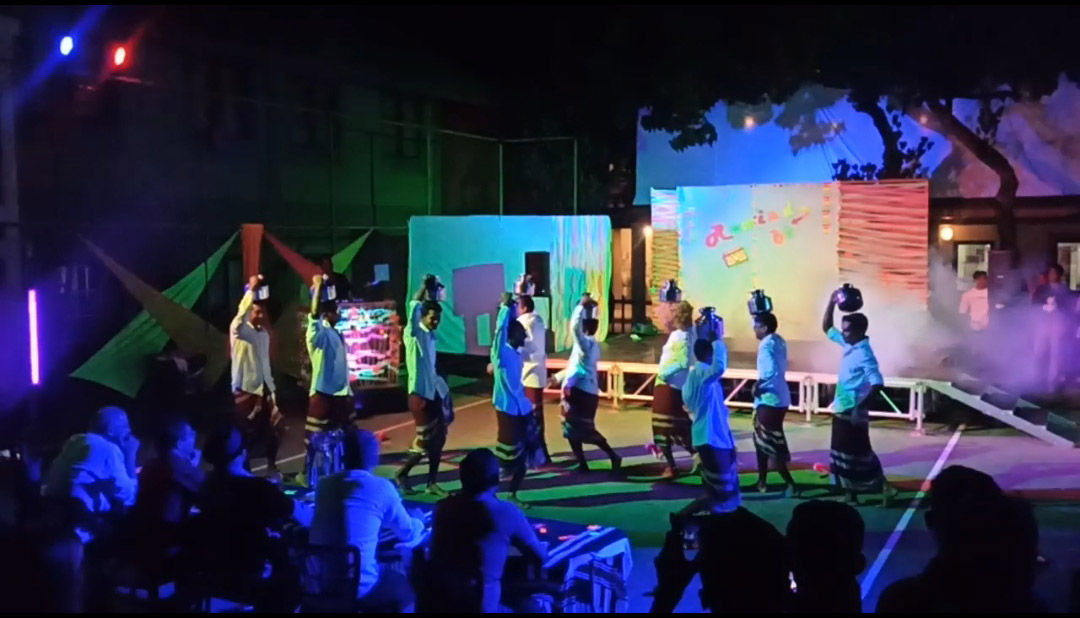 Not only the place where staff have their meals but also a place to meet, relax and have a conversation. Here the food served is an international buffet with some varieties every day.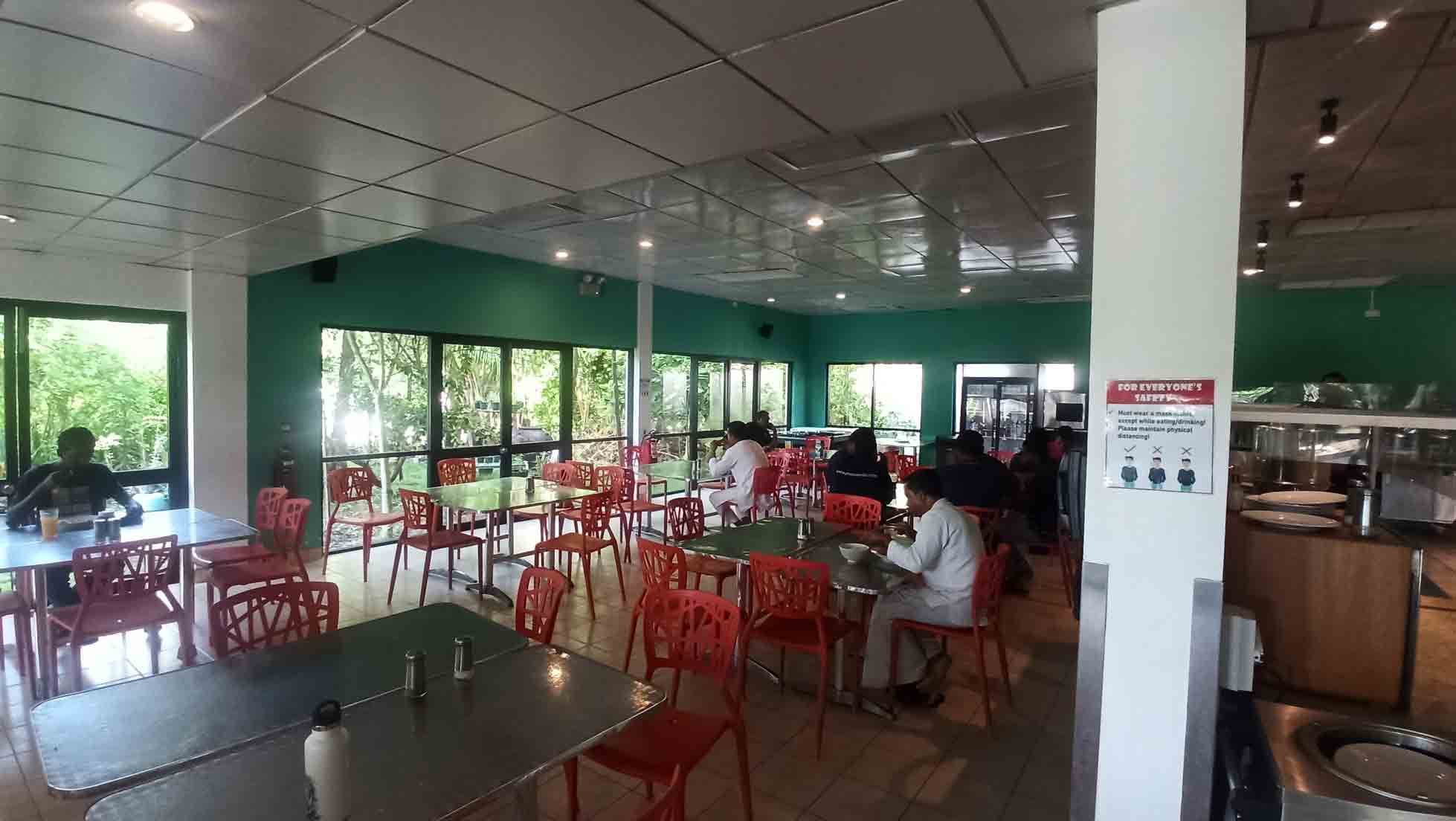 Alcohol on a private resort in Maldives
Although alcohol is strictly prohibited in the whole country of Maldives it is tolerated on private islands as many visitors and guests that are coming on holiday will definitely like to have a beer or two while they enjoy their best time on the beach.

Also staff and other people living on the island are allowed to drink alcohol but with some restrictions: Usually they are not allowed to drink in public areas unless designated for drinking… Very naice!

Some islands will have a dedicated bar for the staff in which every evening they can buy some drinks.. Between all these restrictions locals are not allowed to drink by the law ( but it is quite tolerated on the islands until someone says something or complains about it).

Other smaller islands don't even have a place where the staff can buy some drinks, so the only occasions for them will be during some events or festivals.

Another way that staff can get alcohol is to buy it from the resort. Some islands offer the possibility to their staff to buy some alcohol for themselves, usually one bottle per week.

In this case they are not allowed to drink in public; they must drink in the rooms where there can't be any local Maldivian even if they are not drinking.

Not allowed to drink for example on the beach while viewing the sunset with your buddies.
Pro and Cons of living on a remote resort in the Maldives
As always living somewhere has its pros and cons, same like in the city or in the countryside there are plus and minus, you can't have everything.


So the same is living on a tiny little island in the middle of the ocean in which only one hotel can be found.
Pros of living on a resort in Maldives
Apartment just a few step from a white sand beach surrounded by crystal clear water and fishes everywhere
The dream of everyone, especially for those who are living in the city, is to escape to a tropical island and have their apartment just a few steps from a white sand beach surrounded by crystal clear water.


The tropical climate
If you wish to go all year in shorts and flip flops this is the place for you. The climate is constantly warm and can be divided into two seasons: the dry and the rainy.

Although it rains a lot in the rainy seasons, the temperature remains warm and very comfortable.


Save Money
The best place to earn and save money! You can't really spend that much while you live on an island in the middle of the ocean, as all the necessities are provided from the resort.

You might spend some extra money for drinks during your days or for some meals if you go to some other islands.


A lot of free time
As you don't have to buy food from the supermarket, cook the food and wash the dishes which usually takes up a big amount of your days when you live in the city, here you have plenty of time to enjoy yourself, cultivate your hobbies and spend time with who you like most.

And I tell you more, you don't have to wash your bed linen and your uniform as it is usually taken care of by the laundry. You only have to keep your room clean and wash your personal clothes.


Safe place to live in
Living in such a small place creates a quite safe environment as you have everything that you need in hand, there's no criminality, no worries about car and insurance and you basically can visit the doctor anytime without having to queue.
These are a few positive points about living on a resort in Maldives. Click on the button below to comment and to add more positive points about living on a resort in Maldives.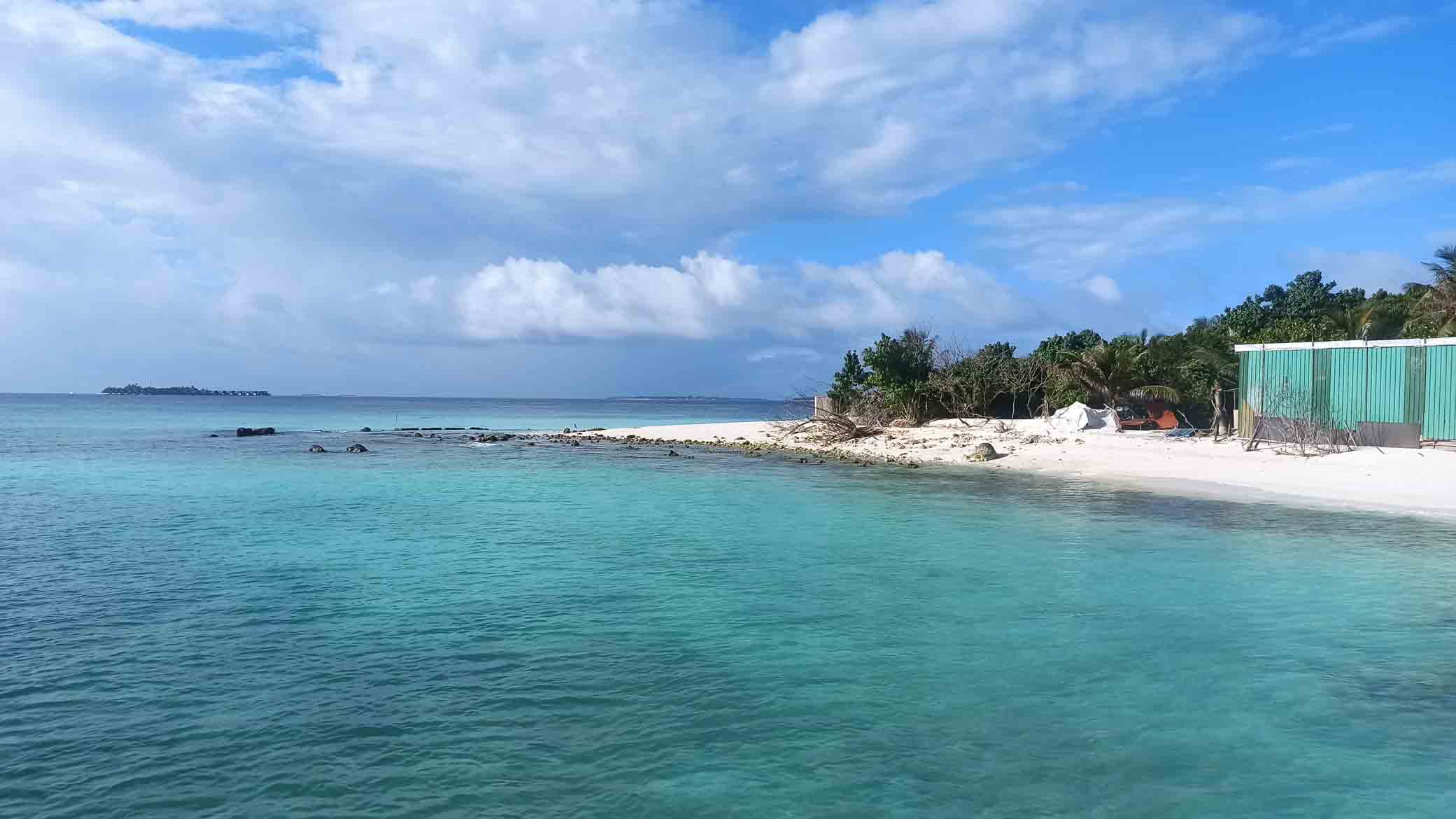 Cons of living on a resort in Maldives
Now time for the Cons of Living on a resort in Maldives. There is always the other side of the medal and for all of you that are asking me how can you live on such a small island? Aren't you becoming crazy? Here we go.
These are a few cons when you live in this type of environment.
Golden prison
The small private islands are often called by the workers the Golden Prison. Living and working in the same tiny little island where there is no escape is not for everyone. Usually staff are not allowed to walk around in the guest area if not needed for work. It is not a prison of course but the world gets much smaller when you live in a tiny environment like these.


Not so much variety during your days OFF
If you look to do all the things that you do during your days off in the city here is not the case. Most of the time you will spend your day off on the island doing things that we already talked in the section "WHAT TO DO ON A RESORT IN MALDIVES" ( LINK to the section above).


Same people all the time
It is a fact. Living and working in the same places you will meet the same people from morning till evening.. Very Naice


Limited privacy
There is not really a place to hide on the island. Even your accommodation usually is a shared one unless you are in a higher position and you get your own little space to hide.


Limited shopping
Only a few items (mostly the necessaries) are available to buy on the island unless you are willing to pay resort price for items that will cost you less than a half back at home.

So a good point is to bring your own favorite products straight from home before you come here or when you go on holiday. If you need something urgently there is always the possibility to go to Male ( the capital of Maldives) but not all the products are available there and the price is still expensive compared to home.

Alternatively you can ask some of your colleagues who are abroad to do the shopping for you before they come back to the resort or you can have some good Maldivian friend that can buy you what you want online, get it shipped to their island and then into your hands.


Food & Accomodation
Although there is a canteen with both international and local foods you can't have exactly the same quality of food and the same type of cook that you get at home.

And about accommodation if you don't like the space or the furniture that's not really so much you can do about it.


Alcohol and parties
If you are looking for vibrant parties and what normally you get back home or on a tropical island in Thailand this is not the place.

Small parties are allowed but on a smaller scale of what you usually are used to plus the use of alcohol is limited to just private areas or dedicated bars.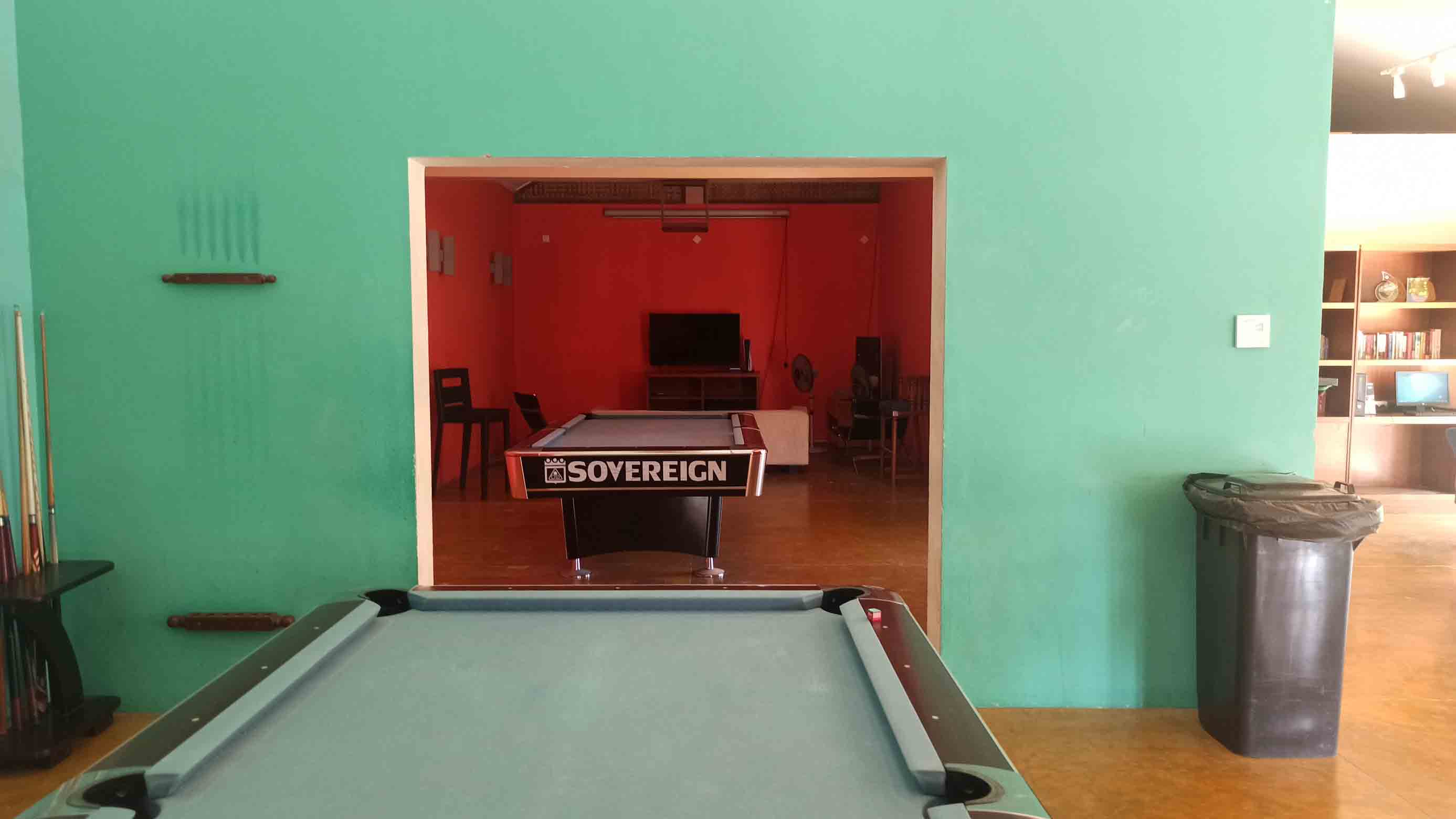 Other activities that you can do while living on a resort In Maldives
Escape for a while from the resort: a nice way to change your surroundings and escape for a while from the resort is to travel to one of the local islands nearby or to go to Male for a day or two.


Go for a run and exercise in the early morning: a good way to connect with the day with a good vibe is to do some sports in the early morning.
Most of the resort allows you to walk/run around the island before the guest wakes up for breakfast.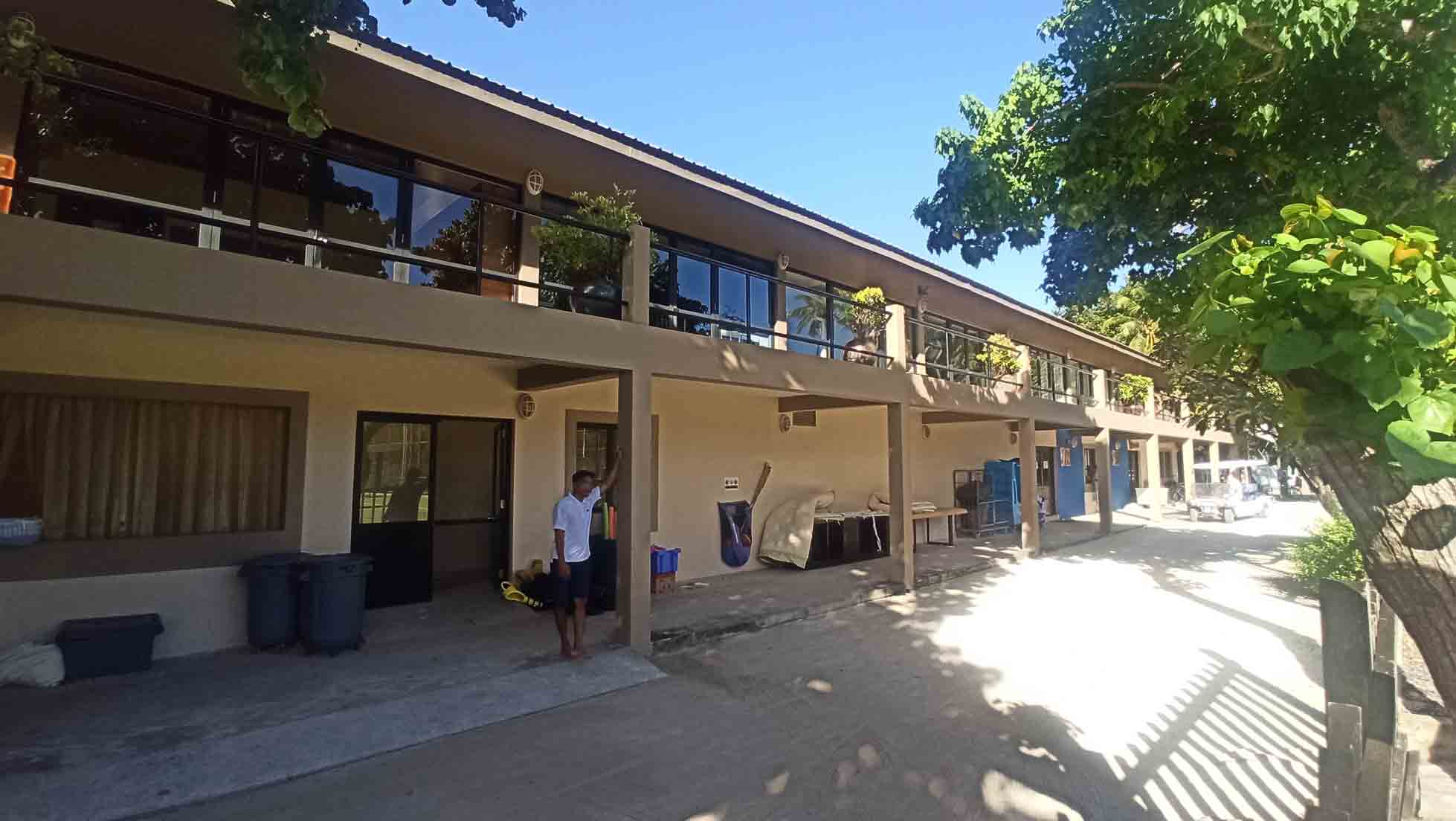 Tips on how to make the living on a resort in Maldives the best
First of all try to imagine yourself in a confined area surrounded by water and think of how it feels.


See the glass half full and not half empty: enjoy the things that are available on the island and don't think so much of what you don't have or what you have at home.


Enjoy the little things and the benefits of living here: the sun, the beach, the various foods, the crystal clear water.


Make good friends: spend time with people that you enjoy talking to and doing some activities together.
Share with them if you have some difficulties and thoughts about living on the private island in Maldives.
They might feel the same and you can get some support and encouragement from them.


A lot of very naice thoughts and words!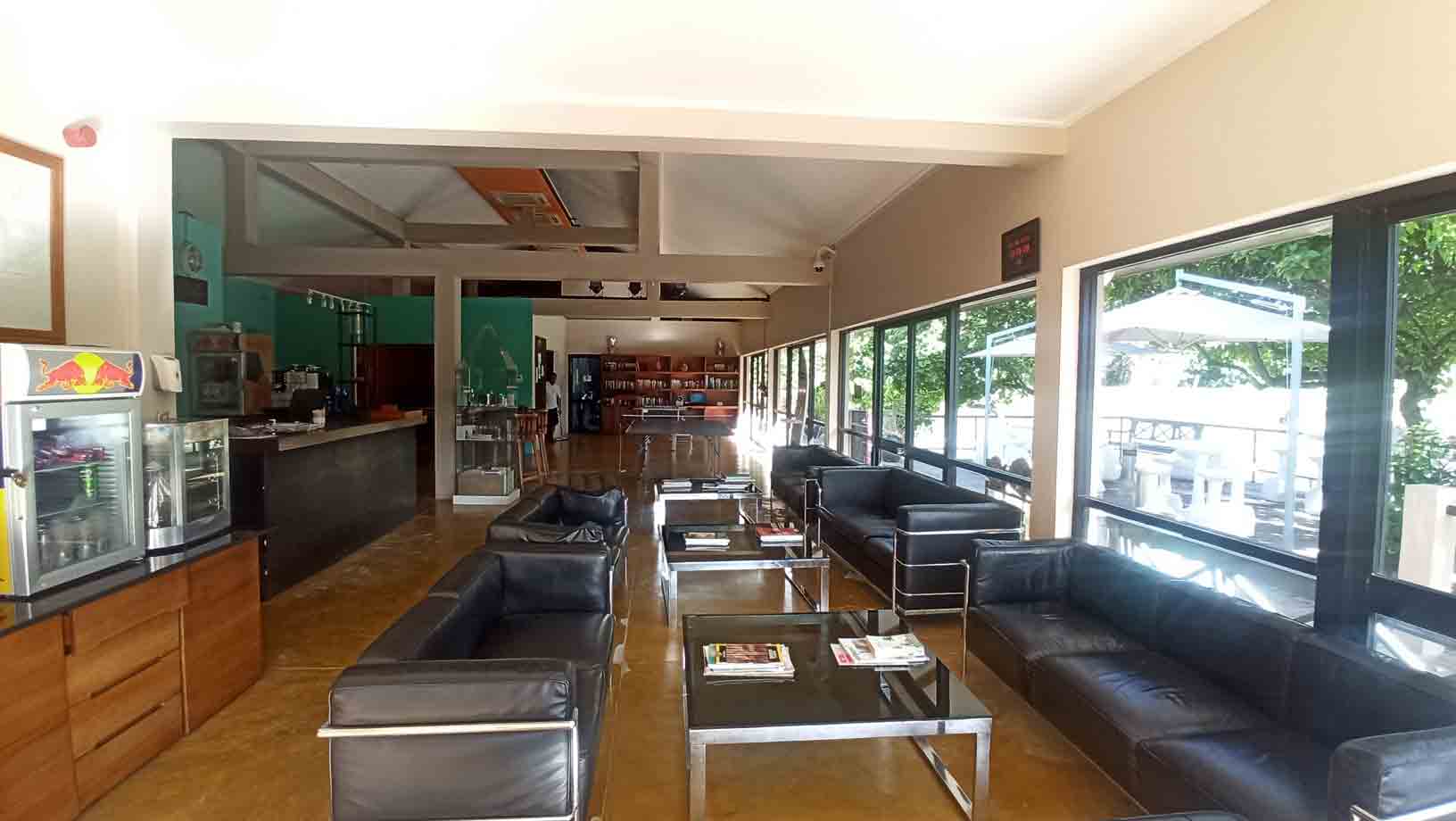 Summing Up Living on a resort in Maldives
Living on a resort in Maldives is quite a unique experience that you should try if you get the chance for a job here. If you are interested for a job as a Dive Instructor in Maldives you can read my dedicated guide on How to find the
best jobs in Maldives for Dive Instructors
.
Take your time especially in the beginning to familiarize with the environment and get yourself feel at home. People living here are nice and there is a good vibe in the community. Enjoy it!
Let me know in the comment below if you find this blog post useful and share it with your friends on social media in one of the button below!  Very naice!!